Success Stories
Feel free to browse and learn of other's successes and hopefully add your own someday.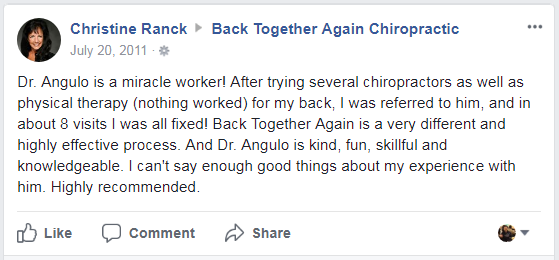 Ran A Triathlon Without Knee Pain
Dr. Louis is the best. I was recommended to him through a friend at Eagleman Half-Ironman Triathlon. When I first came to him I was experiencing a lot of pain during the run portion of my triathlons. After one session not only am I running faster I am doing so without putting my knees at risk. I just finished the NYC Triathlon and visited Dr. Louis two days before the race and I finished that race so strong and so confident and I know it's because of the treatment I received from Dr. Louis. I tell everyone I know about Dr. Louis, he is the best.
-Syncere Martinez, NYC
---
Pain Free Triathlon 
I just completed the triathlon here in Tampa and I was able to do so pain-free!  I could never have competed today without your great help this past week.
I will come in for some more appointments to make sure everything is 100%. Thanks again, you are great at what you do!
-Joe Bachana
---
Running in the Marathon
As an avid competitive runner, Dr. Angulo's treatments and advice of stretching and strengthening have helped me tremendously.  And his Active Release Technique ha also lent to speedier recoveries making it possible to push the limits of my athletic ability.  Also, his sessions have eliminated the nagging problems that crop up while marathon training, allowing me to stick to intense training and racing schedules. I am now more aware of my body, the muscles I use in sport and how to keep injury at bay.  I owe many of my personal bests race finishes to Dr. Angulo.
-Sharon
---
I Can Play Soccer Again
"I've been playing soccer all my life and was semi-pro material until I was sidelined by a slew of injuries, which ended my soccer career. I've been going to chiropractors anywhere from 1-3 times a week for years, and although it helped, I still played soccer in pain. After 3 months with Dr. Angulo combining a traditional chiropractic treatment with the A.R.T. techniques, I am able to play soccer with very little pain, and am actually running lighter and faster again."
-N. Giacapelli, New York, NY
---
Chronic Pain Gone
"I had chronic low back pain with radiating pain to the left leg and was unable to walk for more than 3-4 city blocks and had to sit down due to severe pain and fatigue. After about 5 sessions of the A.R.T. combined with the Bio- Cranial Technique, I walked approximately 8 miles without pain and did not need to take a break. Now I've begun to work out again!"
-J. Levkoff, NYC
---
No More Sciatica
After an injury while jogging, I developed severe sciatica with excruciating burning pain from my hip all the way down to my ankle. I went to several chiropractors, months of treatment with two different physical therapy techniques, and was on a very strong prescription medication for more than a year. Nothing helped and I was beginning to think I would be permanently crippled by pain. But after only one session with Dr. Angulo, I was able to get off the medication. After 4 sessions my condition was virtually cured and I was pain-free. I am now on a once-a-month maintenance regimen. Dr. Angulo is a gifted and compassionate healer, and his Active Release Technique is a miracle.
-Christine Ranck, PhD.,NYC
---
Decreasing Chronic Pain from Lyme Disease
I have been treated by Dr. Angulo over many years and feel is he is one of the most skilled chiropractors I have ever known. His kindness, understanding, patience, and desire to truly help his patients makes him a unique treasure. I have been treated by approximately a dozen chiropractors over the course of 23 years, so I feel I am in a good position to offer this assessment.
I recently was diagnosed with chronic lyme disease, unfortunately. One of the worst symptoms of this condition is fibromyalgia-type muscle pain throughout the entire body and pain and inflammation in every joint. I suffered with this for months and was bedridden, unable to move at times. I hadn't seen Dr. Angulo in at least a year because I live in New Jersey and he had moved to New York, but I was desperate and knew that if anyone could help me, he could.
Dr. Angulo recommended the Active Release Technique, (ART),a soft tissue treatment that would help me with my pain and inflammation. The results of this hands-on treatment were incredible! Before, I could barely get in a crouching position because of the pain in my knees. My hands and wrists would throb with pain throughout the night because of the inflammation. But when I woke up the next morning after the ART treatment, about 90% of all of those horrible symptoms were gone! I could bend my knees and use my hands again to grasp my toothbrush, pull up my blankets when I was in bed, and open jars–simple tasks I couldn't do for the past 8 months! The overall pain in my entire body had subsided to a huge degree. This lasted for up to 2 weeks and then I got another treatment in which I now feel even better.
I am confident that maintaining these treatments will help me deal with the chronic lyme, which is a condition that can last years. Doctors only know how to treat it with antibiotics and perhaps certain herbs and nutrients, all which were helpful, but none of them could get rid of the chronic, ongoing pain and inflammation to the degree that Doctor Angulo could with the ART technique. I am writing this testimonial because I want to offer Dr. Angulo my sincere appreciation for how he has given me back my ability to function again. In addition, I hope my experience can help others who need this kind of assistance in their lives.
-Cathy Gale
---
Getting Stronger
I was not in pain. I saw Dr. Angulo because in the past 6 years, each time I tried a different form of exercise something broke. I tried swimming – the crystals from my inner ear were dis-lodged and I had to go to physical therapy once a week for 6 months. After that, I tried going to the gym. During the evaluation session, I herniated 3 discs and was numb in my right lower arm and fingers. Back at Rusk- this time 2x/week for 6 months.
This time, I decided that I was going to get everything in alignment and prepare my body for exercise. So far, its working. I've been attending Pilates class for 3 weeks – so far so good!! no back pain! no escaped crystals!
I had no strength in my limbs. When first evaluated, I could not resist the resistance which Dr. Angulo requested. This situation has been much improved.
Additionally, all my tension settles in my upper neck. This situation is also progressing and improving!
-Merle K.
---
Frozen Shoulder
"This note is to thank Dr. Angulo so much for the marvelous work he did to free up my 'frozen shoulder'. Before I came to him, my range of motion just kept getting smaller and smaller, and the pain was so bad that I couldn't sleep. He and I worked out a treatment plan of two 15-minute sessions a week, plus daily exercises with small weights that he designed for me to do on my own, that took about 10 minutes every morning. Now a year later, my flexibility in both shoulders is still more than 100% and the muscle weakness and pain are all gone. I am so grateful to you for making it possible for me to regain full use of my right arm and shoulder."
-Dr. Diane S., PhD, NYC
---
Migraine Headaches Disappeared After One Visit
I came to see Dr. Angulo for chronic headaches and migraines. I used to get 2-4 headaches per week, after the first session I didn't have any headaches the following week. Since then I've had a follow up session and things have been great. I will continue my treatment and hope that things continue to work out so well.
-Julia Gelfatt